Until recently every time a struggling homeowner would contact me to find help with a loan modifications- every call required unique searches and phone calls to find the right contacts.

Help may have arrived as a result of the $25 billion National Mortgage Settlement with the five largest mortgage servicers  – a somewhat consumer-friendly website  Homeowner Connect -was developed and funded by GMAC and aimed at assisting their drowning homeowners with handling their own applications, checking the status, and locating Department of Housing and Urban Development-approved counselors to help at any point in the modification process.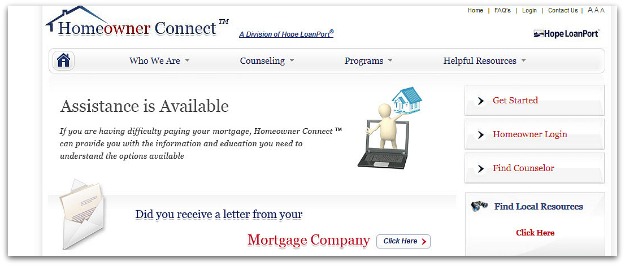 Homeowner Connect opened its site in September and at this time its only available for GMAC Mortgage customers.  However I've looked at the site as well as Hope LoanPort and there's a lot of useful generic information to aim struggling mortgage holders in the right direction.
Good luck and feel free to call or email if you need more information.