It's hard to get a grip on exactly what's happening in the local Cincinnati real estate market!
If the information below is not detailed enough or if you are considering buying or selling your house or condo- call for detailed market analysis. Or Subscribe.
Are prices about to go off the cliff?  Are home sale prices going up or going down?  Well the numbers can get confusing- but the sake of simplicity today I'm going to zero in on single family resales.  No new construction or condo sales are included in the numbers and as you can see the average sale price has bounced around for the last several years- reaching an average high of $172,609 in 2005.  The year to date (10/10/12) average sale price is $156,120- well below 2005 but higher than last year's average.
Greater Cincinnati has never been one of the sizzling real estate markets with sky rocketing appreciation followed by plummeting values and the chart below reflects a market impacted, but not devastated by the national real estate slump.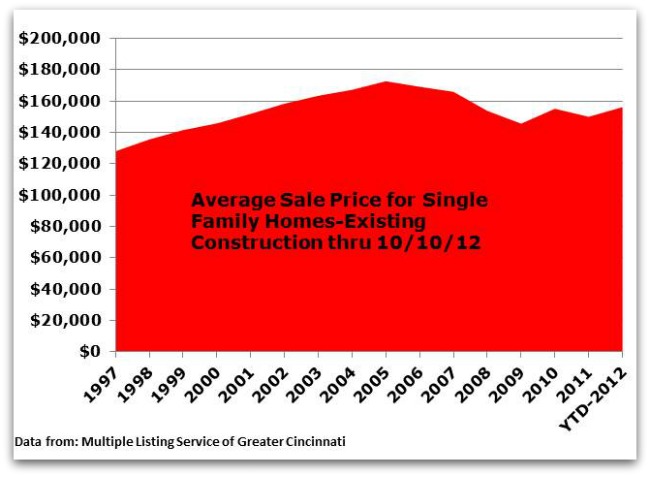 Government incentives fostered unsustainable surges which is why the average sale price in 2010 was higher than 2011.
Each neighborhood will have a unique average sales prices so call or email if you want specific details