According to the latest report from Corelogic -1 in 4 homeowners in Ohio are "underwater" with their mortgages.  That means that approximately 25% owe more on their mortgages than their property is worth.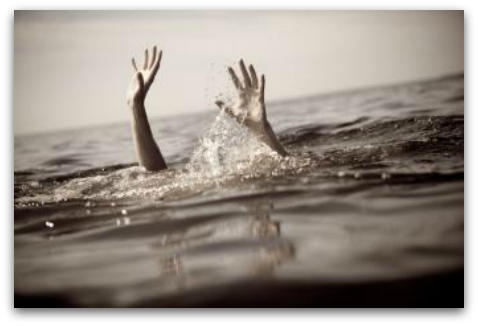 An article in the  Cincinnati Enquirer highlights some of the numbers associated with the CoreLogic report.  Nationwide 22.3% of mortgage holders were in negative equity -a decrease from the first quarter of 2012.  According to the report the number of negative equity and near-negative equity  mortgages account for 27% of the residential mortgages down from 28,5% at the end of the 1st quarter of 2012.  But while the article in the local Cincinnati paper focuses on improving numbers the charts below reflect how that Ohio is still highly ranked when counting states with  mortgage problems.
Ohio ranks 9th -mortgage holders with negative equity: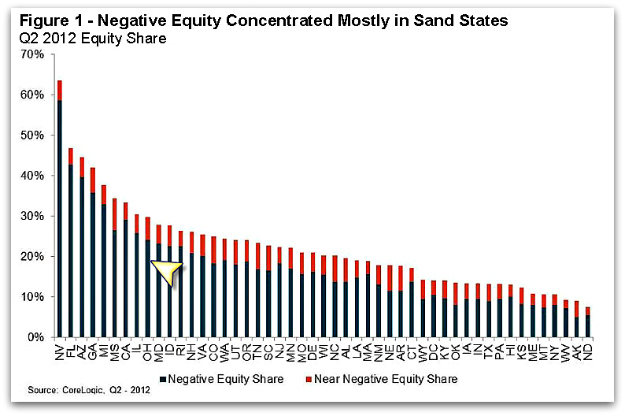 And Ohio also has a high number of residential mortgages where the homeowner owes 80% or more of the value of the property.  In this report 30% of Ohio homeowners owe 100% of the property value.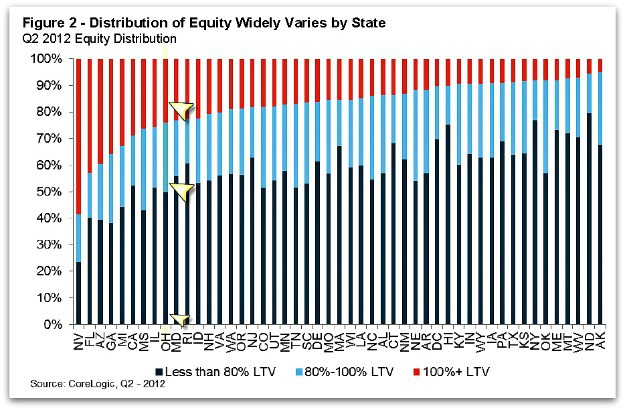 Many underwater homeowners would like to move but cannot afford to bring money to the closing.  Until property values increase, the real estate market in Ohio and greater Cincinnati will need to constantly adjust pricing to meet the demands of today's buyers.
Byron said at September 15th, 2012 at 10:37 pm

Kathy,

Great blog I wish I could blog as well as you. I like to read blogs in others cities and see what is going on nationwide. I am in Houston and we have a lot of homeowners underwater as well. I am not sure the percentage, but I am going to look into it after visiting your site.

Take care,

beachfront real estate in costa rica said at September 17th, 2012 at 2:35 pm

beachfront real estate in costa rica…

[...]Cincinnati Homes for Sale-Cincinnati Real Estate » How Many Homeowners are Underwater in Ohio?[...]…