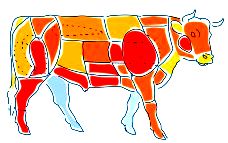 When I began selling real estate in the greater Cincinnati market-the term "subprime" referred to a bad cut of meat.
Today with so many talking heads discussing the real estate market claiming to be an expert on "prime", "subprime", "grade a" ….. the information overload has left many buyers feeling like they're not eligible for any mortgages.
But back in my earlier days (1989) the majority of the purchases were financed by FHA (Federal Housing Authority) mortgages.  Closings with FHA had its ups and downs with appraisals and repairs- but the buyers were qualified and defaults were, virtually, unheard of.
The good news, FHA is still loaning money to qualified buyers.  Check out their site or contact your loan officer for details. (If you need the name of a reliable loan officer-let me know) 
FHA mortgage limits for our area:

If you live in the four county area (Butler, Hamilton, Warren or Clermont), there are 10,871 properties for sale priced under the FHA loan cap. 
The bad news, well according to a recent article in Business Week Magazine "The Subprime Wolves Are Back" it appears the many of the same players who created the subprime disaster are now selling FHA backed mortgages to unqualified borrowers. Hopefully government oversight and/or NAR (National Association of Realtors) will step up and wave the warning flag to halt the alleged abuse of FHA before we lose this valuable asset too.  The real estate market needs a stable, financially solvent source for mortgage money and FHA has filled this need for many decades.
"Time is of the essence" is a popular contract phrase and it should remind buyers currently sitting on the fence, waiting for the best real estate deal, to lean over and take another look at FHA mortgages.  Housing prices and mortgage rates may never get any better.
San Antonio Realtor said at November 29th, 2008 at 1:01 pm

FHA and VA are becoming the standard loan people are applying for.

San Antonio is one of the most Stable Real Estate Markets in the Nation where the Median Home Price is 149,000 and voted the friendliest city in US.
This a great place to Buy or Invest in a Home. Look for Homes at
http://www.sanantoniotxrealestateforsale.com/San_Antonio_North_Central_Real_Estate_Listings_or_Homes_For_Sale.html

or

Nordaune at Real Estate in Rochester MN said at December 1st, 2008 at 3:47 pm

Real Estate Rochester MN also has a very stable market thanks the Mayo Clinic.