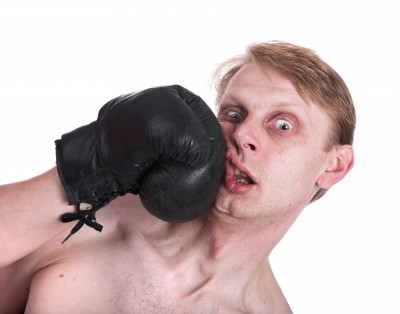 Real Estate buyers still don't understand the impact of FICO scores. 
To understand how FICO scores impact a home buyer in West Chester, Fairfield or Cincinnati today- look at the numbers from  myFICO.com: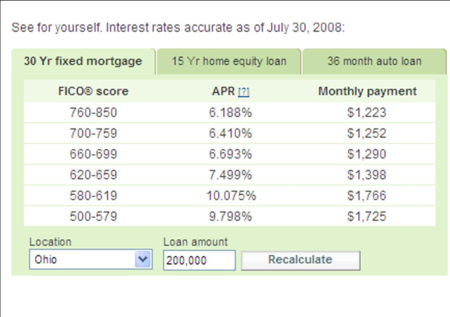 A home buyer financing a $200,000 30 year fixed mortgage with a FICO Score between 500-579 will pay $502 a month more than the buyer with a FICO Score between 760-850.
myFICO.com has a wealth of information and tips for today's home buyers and if are unsure about your FICO- set aside some time to work your way through the site. 
Buyers, even ones with excellent credit scores need to "shop smart" for mortgages: 
 The best way to protect yourself from paying to much for a loan is:
Use a reputable lender (if you need the name of my favorite one- call or email).  Good lenders have a wide variety of loan options available which is a win/win for buyers

FICO Scores- know your score before you start house hunting.  If you are not sure, the loan officer, your banking institution or credit union may be able to assist you.

Shop rates- but understand how to compare "apples to apples".  Many times fees are not properly explained and the "lower rate" ends up costing more.  (that is why using a reputable lender is so important).

Understand the consequences of locking or floating your loan rate.  Many borrowers speculate that rates will drop during before the closing date- so they allow the loan rate to float- only to find out the rate actually went up.  If your financial boat will sink with a higher payment- lock the rate at the time you apply for the loan.
Many things impact your FICO score.  For example if you've been thinking about buying a home or a car and made repeated inquiries (not in the last 30 days) about loan amounts- this will impact your score.  Other activities that impact FICO are financing purchases of large items (washer/dryer) , opening new credit card accounts and leasing a new car or truck.
Need help or direction- or the name of a great lender- just send an email or call.
Can Joe Six Pack Obtain a Mortgage? said at October 15th, 2008 at 11:01 am

[...] A good loan officer will do a thorough credit review, and if it needs to be improved- offer you counseling on how to improve your FICO score. [...]

How to Get Six Pack Fast said at April 15th, 2009 at 9:10 am

If you ever want to see a reader's feedback , I rate this post for 4/5. Detailed info, but I just have to go to that damn msn to find the missed parts. Thank you, anyway!